Soms kunnen kleine gedachten ineens werkelijkheid worden. Joris en Marc willen meer waarde voor de producten, Lisette is gecharmeerd van het kaasmaken en Mariska serveert haar gasten graag producten van het eigen bedrijf tijdens het ontbijt of lunch. Wat is er dan mooier dan kaas van de koeien van De Kandelaar.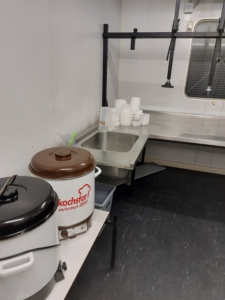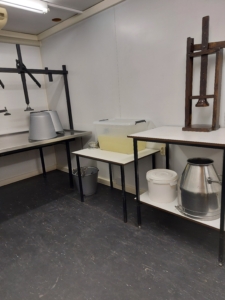 En zo begon Lisette begin december met een starterskit voor kaasmaken. Om de kneepjes van het kaasmaken te leren, werd een bezoek aan Texel gebracht waar Mascha, een vriendin van Mariska, een kaasmakerij heeft.We konden niet wachten om het eerste kaasje te proeven en we waren verbaasd over de heerlijke smaak. Er kwamen kaasvormen bij, een kaaspers werd gezocht en de productie ging over van een pan naar een weckpan. Familie en vrienden reageerden enthousiast op onze kaasjes, waardoor de productie werd verhoogd met een extra weckpan. De kaasmakerij verhuisde naar de garage en Marc maakte een prachtige perstafel. Maar ook de garage werd te klein, met name ook om alle kaasjes goed te bewaren.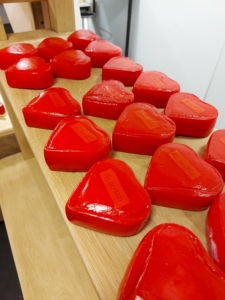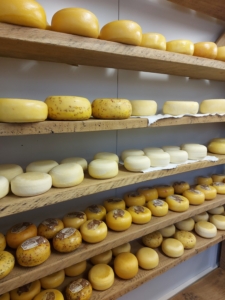 Gelukkig had het RIVM een unit laten staan met klimaatbeheersing. In deze unit werden voorheen onderzoeken gedaan naar luchtkwaliteit en het weer. Deze unit is een perfecte ruimte voor de kaasmakerij en opslag. Toen de suikerbieten eindelijk waren opgehaald, kon de unit worden verhuisd naar de plek waar we voorheen de weegbrug hadden.  Via marktplaats vonden we passende eiken kaaskasten voor de inrichting van ons kaaswinkeltje. En vandaag is het zover, de kaasmakerij en winkel zijn klaar. We zijn van maandag t/m zaterdag geopend van 9 tot 17 uur. En wil je leuke acties van onze kaaswinkel ontvangen, volg ons dan op Facebook of Instagram.
https://www.dekandelaar.eu/wp-content/uploads/2021/01/20210130_155232-1-scaled.jpg
2560
1920
Kandelaar
https://www.dekandelaar.eu/wp-content/uploads/2015/09/logo-300x92.png
Kandelaar
2021-01-30 20:44:23
2021-01-30 20:46:46
Kaasmakerij en winkel zijn geopend!