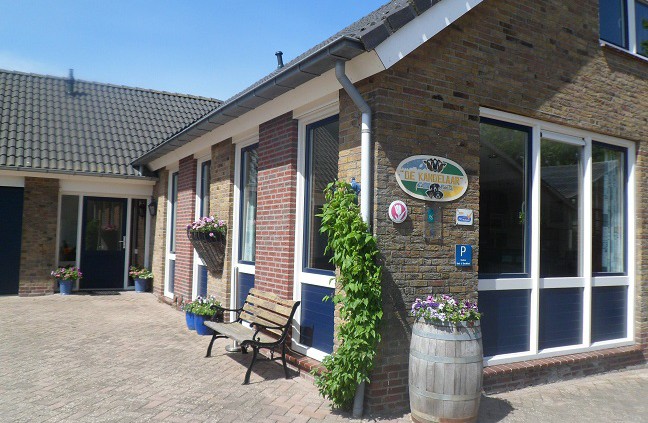 Last week we had a visit from a mystery guest from Bed & Breakfast Netherlands. We were assessed during this visit which would decide on how many tulips were to be rewarded. Tulips are similar to the star rating standards for hotels.
Our mystery guest was very happy and gave us a wonderful commentary. "The Candlestick is a very rural B & B. We had a nice room with a good bed and clean bathroom. The breakfast room / cafeteria is cozy and also has a kitchen which can be used if a guest(s) wants to cook for themselves. Everything looks picobello" (awesome) on the dairy and arable farm. The breakfast was delicious and there was even a possibility to make use of a lovely terrace. We had a tour of the dairy farm and then the hostess passionately told us about the workings of the farm. We also had the chance to admire the calves. Very interesting and educational, we can still taste the fresh milk which is so different from the milk you buy at the store/supermarket. Recommended. "
With such a good review we are obviously proud of having received 4 tulips.
Simultaneously with the visit of the mystery guest there was also plenty of buzz in the building, earlier that morning we had the pit floor cemented. After some 10 trucks full with concrete and after the considerable amount of hours worked by the construction company 'Hogendoorn BV' there was a smooth floor in the well.
Dispite the heat, they are currently finishing the walls of the pit, and finally due to the nice weather the corn is growing.  You can almost see it grow!  (about 15 cm per day).
https://www.dekandelaar.eu/wp-content/uploads/2015/12/entree_buiten.jpg
486
648
admin
https://www.dekandelaar.eu/wp-content/uploads/2015/09/logo-300x92.png
admin
2015-07-01 09:36:03
2015-12-08 09:44:42
Rewarded with 4 tulips…