Mariska van Diepenbeek
The idea of the Bed & Breakfast originally came from Mariska. You can find her almost every day working in the Bed & Breakfast. Making breakfast, shopping, cleaning, administration and website are especially her part. Occasionally she also helps out on the farm, such as when feeding the calves and sometimes she drives the tractor. The administration of the company is also part of her job.
By 1 January 2013 Mariska has worked for 17,5 years as a Technical Sales Assistant at Veeservice Idac. Here she has gained experience with all kinds of products needed for livestock, such as fly control, veterinary drugs and related products.
Since August 2015 Mariska is working as consultant for Optidee. All of the B&B's textiles are from Optidee but Mariska can also provide information on these products in people's homes. More information is available on the website of Optidee.
If there's time left, Mariska has enough hobbies to keep her occuped such as embroidery, garment making and baking cakes/cupcakes with her daughter and niece. In the winter she likes to go skiing in Austria.
De Kandelaar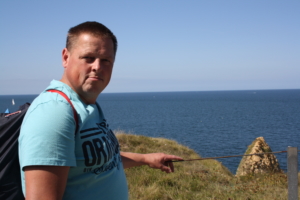 Marc van Diepenbeek
On the night of 15 to 16 August 2021, during the straw harvest, the news of a fatal accident in which Marc died, grieved us beyond belief. We still miss Marc more than words can express; as a husband, father, son-in-law, brother-in-law, brother, but above all as a friend.
Marc always had a dream to become a farmer and his dream came true! He worked for 6 years in steel construction as a welder. Since 1995, he worked on agricultural farms. The first few years, he worked together with his father-in-law and when he retired he continued with Mariska (his wife) and Joris (his brother-in-law).
From the start, Marc was called upon every time when a machine or something else broke. He has made many handy machines and devices. One of his proud moments was a move of the farm from Ganzenweg, Zeewolde to De Kandelaar at Hoekwantweg in Biddinghuizen.
One of Marc's passion was his New Holland tractor, driving it on the land, the extensive polder (reclaimed land) roads and if not for his own farm he worked for contractor Visser, contractor Frens or whoever called him. He was always ready to do farm work.
We miss him terribly on the farm, but mostly as a husband, father and a friendly Brabander (a person from the Dutch province Brabant). We try to continue his drive and passion for the farm at De Kandelaar.
His last project, a milk house, has now become a small monument for Marc. By doing this we try and keep him in the forefront of our memories and continue with his vision and intense enthusiasm for De Kandelaar.
De Kandelaar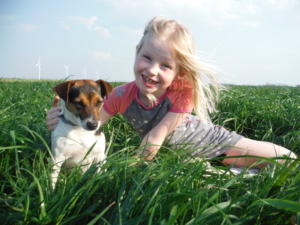 Marlies van Diepenbeek
The youngest resident of De Kandelaar is the daughter of Marc and Mariska. Marlies was born on July 29, 2011 in Zwolle and weighed just 1645 grams and was 41 cm long.
Marlies is now a happy toddler who enjoys going to school: De Zonnewijzer ('Sundial') in Dronten since August 2015. She likes to play with her dog Pukkie. Outside school, she is very active; received her 15th swimming diploma the other day and swims every week at De Kemenade in Dronten. Every Thursday she learns how to beat her drums and on Saturdays she is a scout at De Flevoscouts.
De Kandelaar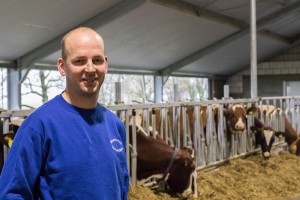 Joris van Kempen
After his Higher Agricultural education in Dronten Joris has worked 9 years with Condor Agri-Systems.. Here he was working with management systems for cattle and pig on a daily basis. Since January 1, 2008, Joris works full-time our farm. Joris is primarily responsible for the care and management of dairy cattle.
In his spare time he enjoys watching football on TV. He has a season pass for PSV and you can find him at almost every home game in the stands behind the goal.
De Kandelaar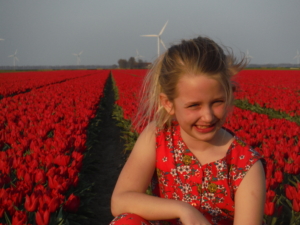 Kaylee van Kempen
Kaylee is Joris' and Natasha's. Born on November 29, 2010. A fast lady indeed, because she started walking around before her first birthday.
She has graduated her primary education at De Zonnewijzer, Dronten. She now attends high school De Ichtus in Dronten.
Kaylee enjoys equestrian vaulting at De Flevoruiters. She also plays many songs on her saxophone and plays weekly with the orchestra De Eendracht.
De Kandelaar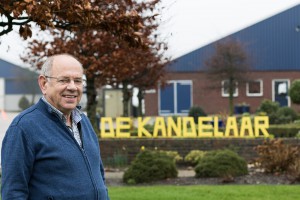 Jos van Kempen
After 3 years working as a sales representative in calf milk, Jos has been independent agricultural entrepreneur for over 40 years. Since January 2010 he moved to Dronten. Finally enjoying his retirement, but he is still a regular on the farm. When the boys are busy on the land he is still with the cows, but he mainly takes care of the plants, the chickens and the garden. In his spare time, Jos likes to watch football, cycling and other sports.
De Kandelaar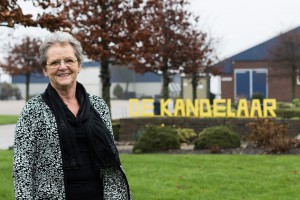 Maria van Kempen
As Maria lives with Jos in Dronten, there is more time for hobbies. Maria likes to go cycling, shopping or a relaxing trip. However, when it's busy in the Bed & Breakfast, she still comes regularly to the farm. She helps cleaning, makes coffee and prepares breakfast and lunches.
De Kandelaar